Did you know that your gas barbecue is the perfect way to cook on school nights and not just for the weekend? Create beautiful meals quickly and easily without making a huge mess inside. Read more and become inspired to use your 
Napoleon gas grill
 to create fantastic meals on the fly. Here are seven reasons to use your barbecue for weeknight meals.
QUICK WEEKNIGHT MEALS
Simple doesn't have to be boring. A quick marinade that double duties as a sauce (when some is reserved) can turn mundane into munchies. Paired with simple and well-seasoned grilled vegetables – yes! Use frozen veg! – you can have a healthy meal on the table in no time. Perfect for any day of the week that ends in "y". These shrimp bowls with peanut sauce are fast and tasty, on your table in 30 minutes or less. Sub the shrimp for any protein you prefer, this meal is delicious any way you serve it.
KID-FRIENDLY FOOD
Let's face it, kids can be picky eaters. Using your barbecue to cook dinners on school nights is a fast and easy way to ensure that your littles are getting food they love. Use it to bake chicken fingers and fries, make burgers or hot dogs, and even make "fun" meals that contain a few healthy elements that they may not necessarily realize. Like these Black Bean and Chorizo Nachos. You can also get the kids involved and have them layer their own nachos with things that they like to eat.
BBQ CAN ACTUALLY BE HEALTHY
Food from the barbecue doesn't have to be unhealthy. In fact, you can create some very delicious meals that are also nutritious and delicious. Use less oil or fats. Create colorful meals that everyone will love. Using your own leaner mix of beef for burgers or using the tumble basket to bake fries instead of frying them, whatever you do, it's easy to use your grill to cook up meals that are healthier. Swap out white potatoes for sweet and use a pre-made kale or broccoli slaw mix, and these Stuffed Baked Potatoes can truly shine as a healthy meal that everyone will love.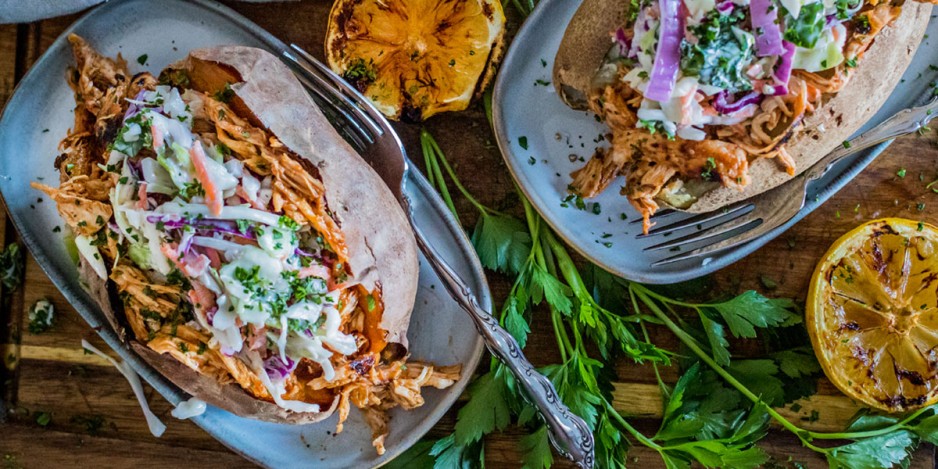 FEWER DISHES TO CLEAN UP
Suggestion: The last thing anyone wants to do after a long day is a boatload of dishes! Choosing grill-friendly recipes can help reduce the time you spend scouring and scrubbing at the kitchen sink. You'll need minimal cookware to whip up a mouthwatering meal, instead of ending up with a mountain of dirty dishes. Try this recipe for BBQ Pork Chops with Honey Mustard Sauce tonight, for an easy clean-up with only 5 dishes!
USE UP LEFTOVERS
Meals like this Easy BBQ Baked Chicken Pot Pie are ideal for using up leftovers. Roast chicken and leftover/frozen veg can be subbed in for fresh here, cutting down on prep time. Double the recipe and you have a meal for tonight and one for the freezer. The best part is there are only 3 or 4 additional dishes made that need to be cleaned too. This particular recipe is ideal after the holidays and can use turkey or beef instead of chicken in this recipe.
DON'T HEAT UP THE HOUSE
Let's face it. It's still pretty warm when the kids head back to school. You definitely don't want to contribute to the temperature in the house by using the stovetop and oven. Even if you don't have children, using your barbecue in the warm seasons helps to keep your air conditioning off while you still get to enjoy delicious meals. Not only just for dinner, you can also use your Napoleon Grill to bake delightful desserts and tasty treats as well. Try this kid favorite, Breaded Chicken that's baked, and this delicious Cast-Iron Baked Brownie to treat your tastebuds tonight.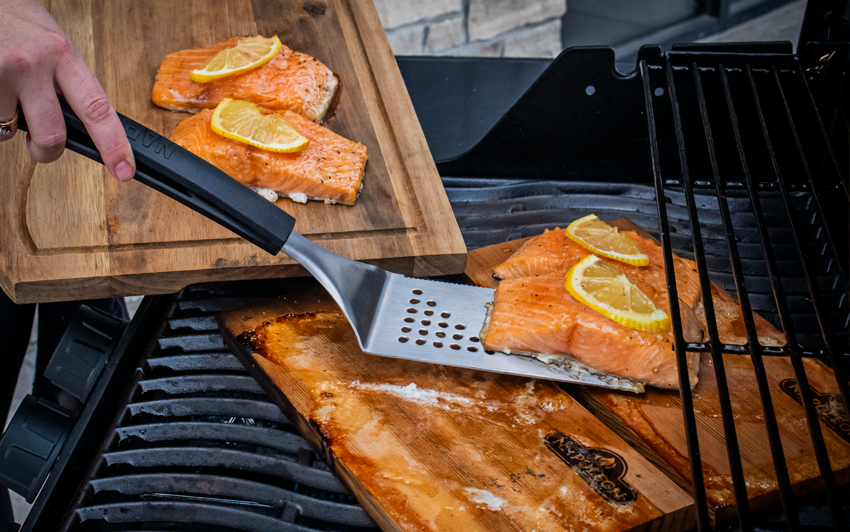 NO SMELLS
The worst thing on earth is when you cook something indoors and the smell of it lingers. Deep frying and seafood meals are major culprits in this. This recipe for Honey Garlic Planked Salmon not only smells delicious but ensures that the scents from cooking remain firmly outdoors.