Cozy up with this bowl of fall.
Celebrate the start of fall with our favorite apple recipes. We're partnering with Sara Forte of Sprouted Kitchen to share tips, insights and recipes featuring fall's favorite fruit.
As the fall chill sets in, things like soup work their way back into our routines and kitchen repertoires once again. Luckily, fall's produce tends to translate perfectly with soups – be it things like butternut squash and beyond. Apples, while likely too sweet to serve as a main ingredient in soup, can also play a fantastic supporting character in all sorts of soupy tales.
Some soups are best left chunky, while others fare best as purees. Vegetables like sweet potato and winter squash are excellent in a puree because they are thick and smooth, and almost buttery in texture. With something like lentil soup, brown or French lentils will be great for a well-textured soup, while the red variety tend to fall apart very easily in broth and are best pureed.
With this soup, we've got lots of protein and fiber, and since it's also dairy-free and vegetarian, it fits most every dietary restriction. The apple in this recipe lends sweetness without necessarily giving an "apple" flavor. The curry, onions and garlic keep it well seasoned and the coconut milk round out the flavors perfectly.
This is an excellent meal for a group, served with naan bread on the side for dipping. It can also be topped with crispy fried tofu or shredded chicken, should you need to bulk it up with a hit of protein.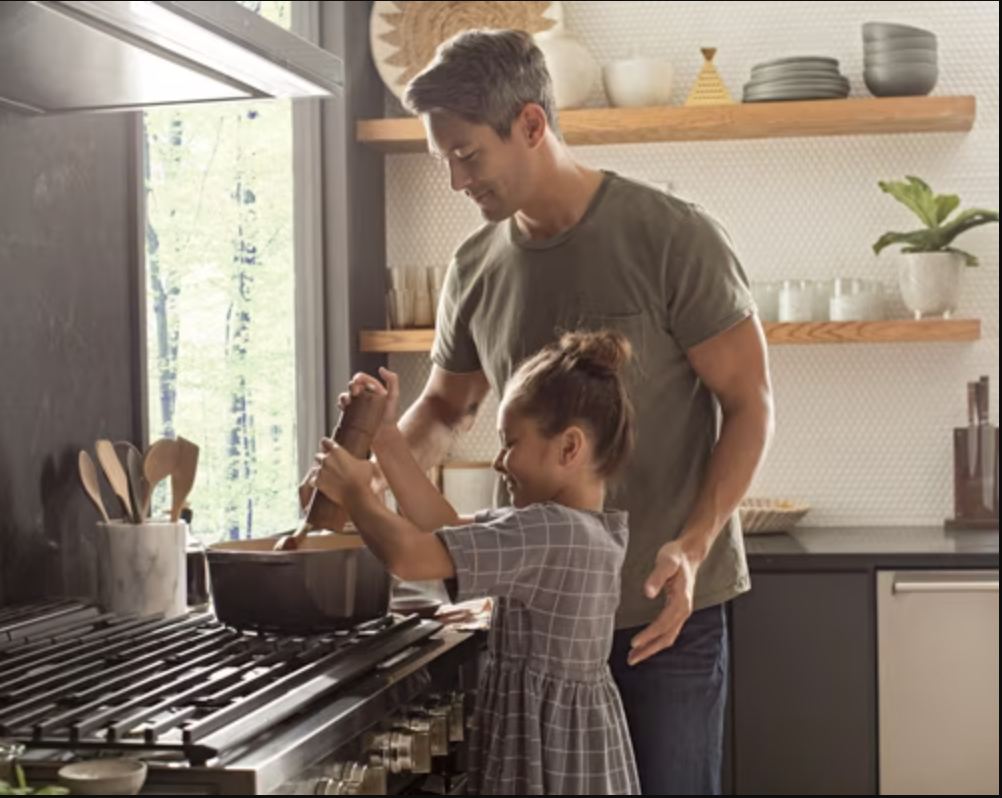 Electrolux Tip: 
Simmer soup to perfection with your Electrolux Gas Range — learn how the precise heat control yields delicious results.
Barely Curried Red Lentil Soup with Sweet Potatoes and Apples
"Curry is always underrated if you ask me. I use just a bit of a good quality red curry paste to give this soup some flavor. Use more at your discretion, or add a sprinkle of turmeric or fresh grated ginger for some extra zing." -Sara
SERVINGS: 4 – 6
Ingredients
2 tablespoon coconut or grapeseed oil
3 cloves garlic, chopped
1 small yellow onion, chopped
2 ribs of celery, chopped
1 medium sweet potato, peeled and cubed
1 small apple, cored and cubed
1 cup red lentils
4 cups/ 1 quart vegetable broth
1 14-ounce can light coconut milk
1 teaspoon red curry paste
Sea salt and pepper
For garnish:
Whole milk yogurt
Chopped cilantro
Toasted cashews, chopped
Toasted sesame seeds
Instructions
Heat the oil in a large Dutch oven or pot over medium heat. Add the garlic, onions, celery and a pinch of salt and sauté until softened. (About 5 minutes.)
Add the sweet potato, apple, lentils and broth and bring the mixture to a simmer. Leave the cover ajar and cook for 15 minutes until everything softens. Add the coconut milk and curry paste and simmer another 10 minutes.
Using an immersion blender or in batches in a regular blender, puree the soup smooth, adding more broth if needed for desired consistency. Keep the soup warm over low heat. Garnish each bowl with a dollop of yogurt, cilantro and chopped cashews and sesame seeds.