From our friends at Decor-Rest, 8 Ways to Create a Family-Friendly Living Space!
With Thanksgiving coming up fast and social distancing rules getting tighter in many areas, there's a good chance you'll be staying home rather than spending the day with siblings, parents, cousins and grandparents. With a long fall and winter ahead of us, a family-friendly living room has never been more important. It's the place where everyone gathers for playtime, board games, movie nights and afternoon cuddles, so it's essential that this workhorse of a room—whether it's a great room open to the kitchen or a basement family room—works for everyone, from the littlest tot to doting grandparents. Here are eight ways to make your living space family friendly.
1. Opt for Rounded Corners and Edges
Kids run into things. A lot. If you have kids, sharp corners and hard edges are just an accident waiting to happen. Save yourself the worry (and trips to the emergency room) and opt for furniture with rounded corners and softened edges. Our Middleton Coffee and Side Tables have a mid-century modern look, with stainless-steel legs and a wood top cut in an exaggerated kidney shape. They'll look great in modern and eclectic rooms alike, and the curving lines and rounded edges make them super-kid-friendly. Or, if a rustic-industrial vibe is more your style, the Belin Nesting Coffee and Side Tables feature a metal base and round wooden top.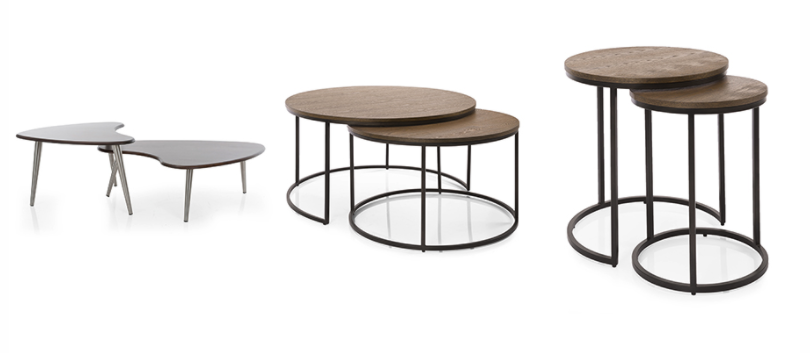 If you prefer a more sleek look, round coffee tables like the Milli, Polo or Ryan are striking—but keep in mind the marble top on these tables can do damage if a little one bumps their head, so it's a better option if your kids are a bit older. And while we're talking coffee tables, it's best to avoid anything with a glass top if you have young children. A thrown toy or a misplaced jump during play can result in a shattered table—and possibly a serious injury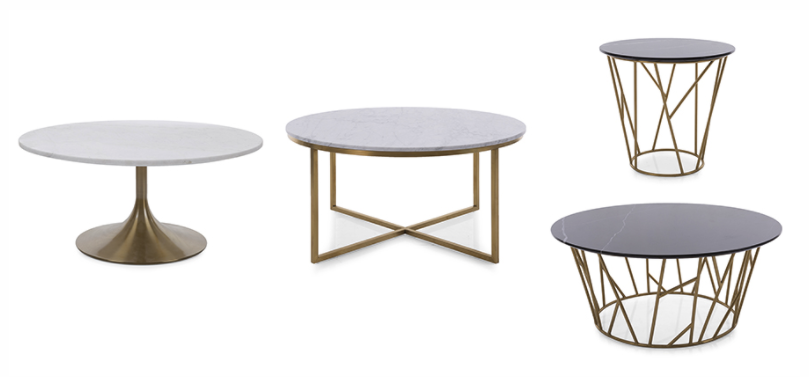 2. Incorporate Firm Seating
This one's for the grandparents. While you may love a soft sofa or chair you can sink into, as people age, a firm seat becomes increasingly important for comfort and stability while seated. It's important to have at least a couple of chairs or a sofa with firm seating and a relatively high seat height. A higher seat is much easier to sit down in and get up from if your parents have hip, knee or back issues, or lack core strength. Our 2795 and 2541 sofas have a modern shape, and you have the option to choose firm foam in the cushions. (Bonus: Both can come as a sectional, with a wide range of configurations to suit your space and meet your family's needs.) A great option for smaller spaces is the 2830, a condo-sized model available in a sofa or loveseat, with the option for firm foam and a higher back for extra support while sitting.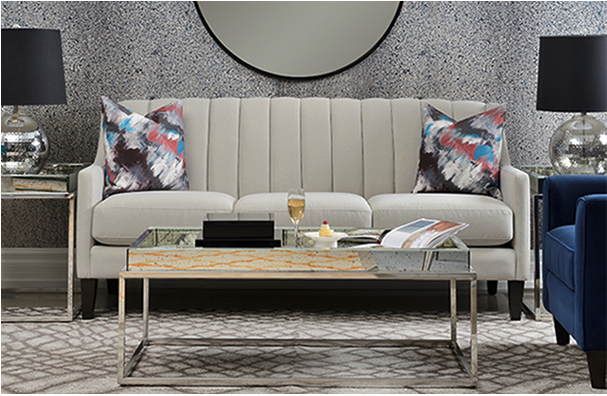 If you prefer a low, soft sofa for family cuddles, you can keep everyone comfortable with a supportive Armchair or two. Wingbacks offer lots of support, and our 2220 and 2310 and 2492 are just a few of the great options.

3. Choose Fabrics Wisely
Between spilled drinks and snacks, sticky fingers, accidents during potty training, and the much-dreaded kid who goes Picasso on your furniture with markers (or pens, or lipstick), surfaces in your living room need to be washable. Choosing sturdy fabrics that will hold up to messes and a bit of rough-and-tumble play is essential. Many people think Leather is a good option, but there are lots of stains that don't lift easily (or at all) from leather, including ink, so your better bet may be an upholstery fabric. Look for Performance Fabrics, a designation that indicates the fabric is durable and easy to clean. If you're a family of spillers, dark and patterned fabrics are your friend.
4. Maximize Storage
From toys and board games to electronic devices and extra blankets, there's a lot of stuff that likely needs a home in your living room. To curb clutter and ensure everything has a place, smart storage solutions are important. An Ottoman with Storage is ideal for families—it's a spot to kick up your feet, a soft surface for play with toys, extra seating in a pinch and it offers the all-important hidden storage. We have options in leather and fabric upholstery, and a variety of sizes and styles to suit your space.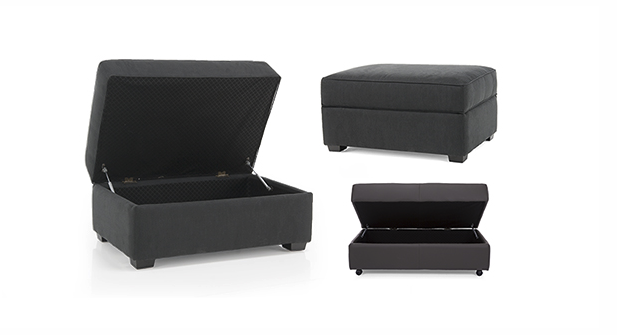 A cabinet or credenza can also offer lots of closed storage while bringing character or style into your space. The sleek and modern Carlotta or Robin cabinet will add a punch of colour to the room, while the Galley Credenza's poplar veneer doors add a touch of warmth. If drama is more your style, the black matte finish of the Shivani or Zita cabinet is sure to be a hit.

5. Load Up on Soft Textiles
Cozy textures are essential come winter, and now's the time to invest in a few key textiles. Think soft, fluffy throws, lots of pillows, and area rugs to add warmth.
When you're choosing pillows, remember that they'll get tossed around, piled on the floor and turned into all manner of objects during imaginative play, so removable covers that can be thrown in the wash are a big plus.
As for rugs, there are a couple of key things to think about: comfort and safety. While the kids would love a soft shag rug to roll around on, grandparents may feel a bit unstable walking on a somewhat uneven surface, so factor that in if the grandparents are regular visitors. Of course, if they visit every so often from out of town, you can always roll up the carpet during their stay.
6. Consider a Sofa Bed Sleeper
If you don't have a guest bedroom in your home, a sofa that can transform into a bed for out-of-town guests (once we're through this pandemic) is definitely something to consider. The 2900 Sofa is great for modern spaces, while the 2455 has a rounded arm that nods to tradition.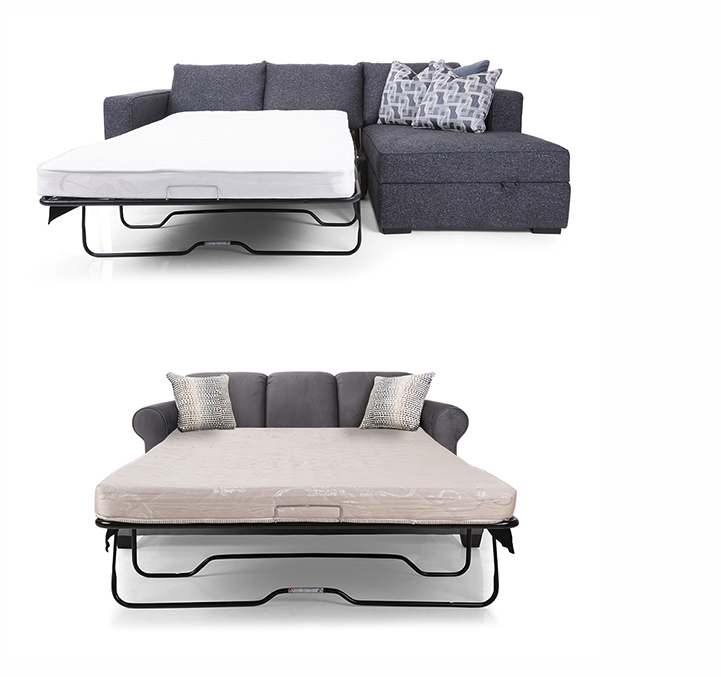 7. Always Secure Furniture
All it takes is a curious toddler or a little monkey of a kid for a Bookshelf or cabinet to come crashing down. Keep kids safe by securing all bookshelves or climbable furniture (including anything with drawers) to the wall with safety brackets.
8. Embrace Colour
While you may love a palette of soft and soothing neutrals, kids often find that pretty boring—and everyone should feel at home in the living room. If a bottle-green sofa or a pink cabinet aren't for you, throws, pillows, and decorative accents are a low-cost, low-commitment way to inject bold hues in the space. Let your kids each choose a piece or two and they'll be delighted!
Above all, a family-friendly living room should be inviting, comfortable and safe for everyone. So plan and shop with all ages in mind.