Five Tips to Reduce Food Waste
Whether you're coming home from your weekly trip to the grocery store or preparing for a Sunday dinner with friends and family, knowing how to make the most out of your fresh ingredients can help you reduce food waste at home.
According to a new study conducted by OnePoll on behalf of Bosch home appliances, the average American tosses $53.81 worth of spoiled food a week from their refrigerator, or $2,798 every year. The unnecessary waste of food weighs on our conscious, too, as 73 percent of respondents say they feel guilty when they waste food.
Read on for five ways that your refrigerator can help reduce food waste in your home.
Tip #1 – Seeing is Believing: Keep Your Fridge Clutter-Free
Refrigerator organization is stepping into the spotlight in the kitchen for a good reason: three in four Americans believe that they waste food because they forget it's in their fridge or it gets lost among the clutter. With a few simple steps, your refrigerator can accommodate nearly all of your ingredients—from condiments and meats, to farmer's market produce and fresh-cut herbs.
Begin organizing your refrigerator by simply writing the proper dates on every item, which helps prevent wasting leftovers of opened boxes, bottles or containers. Always remember the "first in-first out" rule – store your most recently purchased items in the back, so you remember to consume older food first.
As well, the design of your refrigerator shelving can play a big role in making the items you've stored in your refrigerator visible. Perfect for foods and beverages that might not often have a home, such as wine bottles and condiments, the new FlexBar™, available on the all-new Bosch French door bottom mount refrigerators, creates extra space and includes multiple accessories for a custom solution based on your storage needs.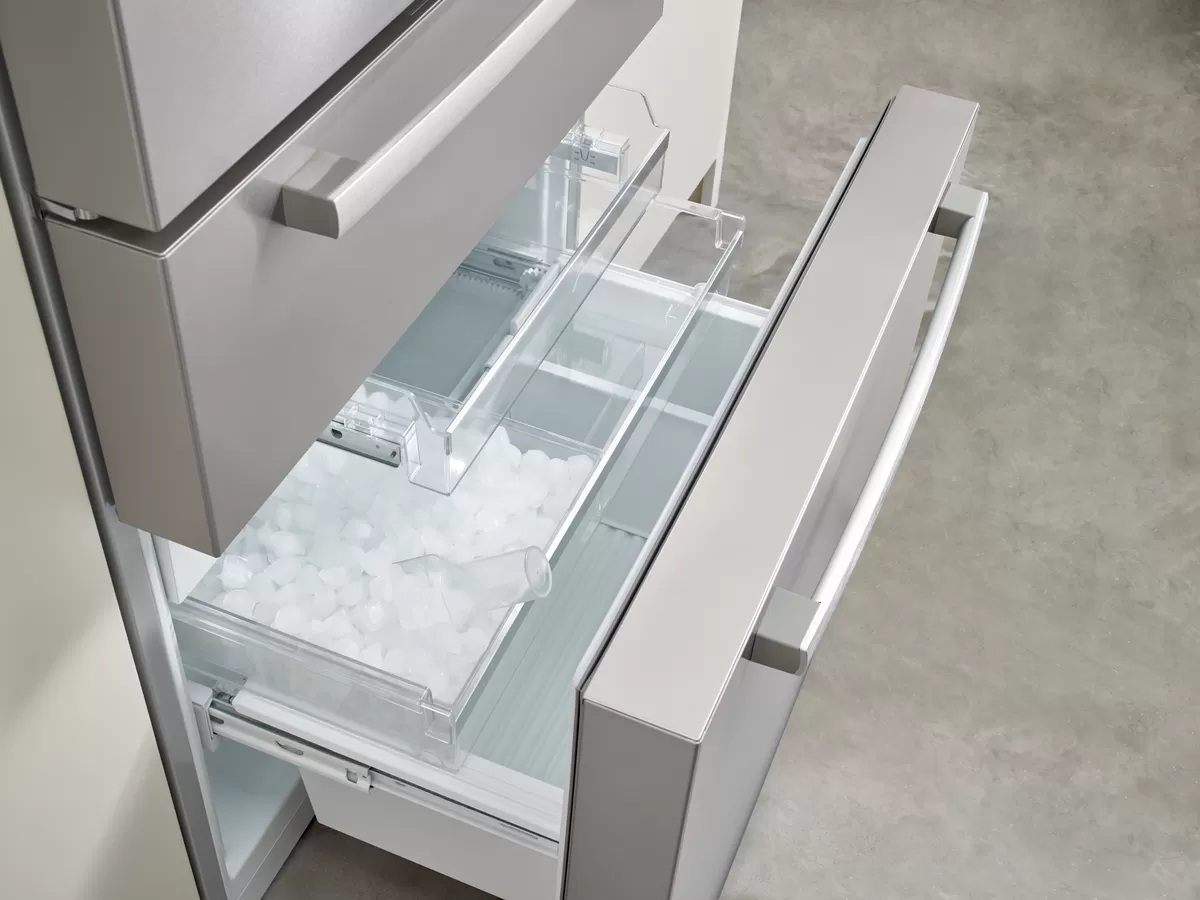 Stunning lighting systems that clearly display the fresh items in your refrigerator help to reduce the likelihood that they might become lost or buried.
While the design of many French door bottom mount freezers make it difficult to not only open the freezer drawer, but also to see and organize the contents, a three-tier shelving system on the new Bosch units allow consumers to easily open the freezer and view its contents.
Tip #2 – Know Where it Goes: Where & How To Store Food In Your Refrigerator
When it comes to storing your fresh items, knowing where to store them is half the battle.
Some of the most common items that Americans waste, including strawberries (50 percent) and leafy greens (44 percent) require the perfect environment to prevent them from going to waste.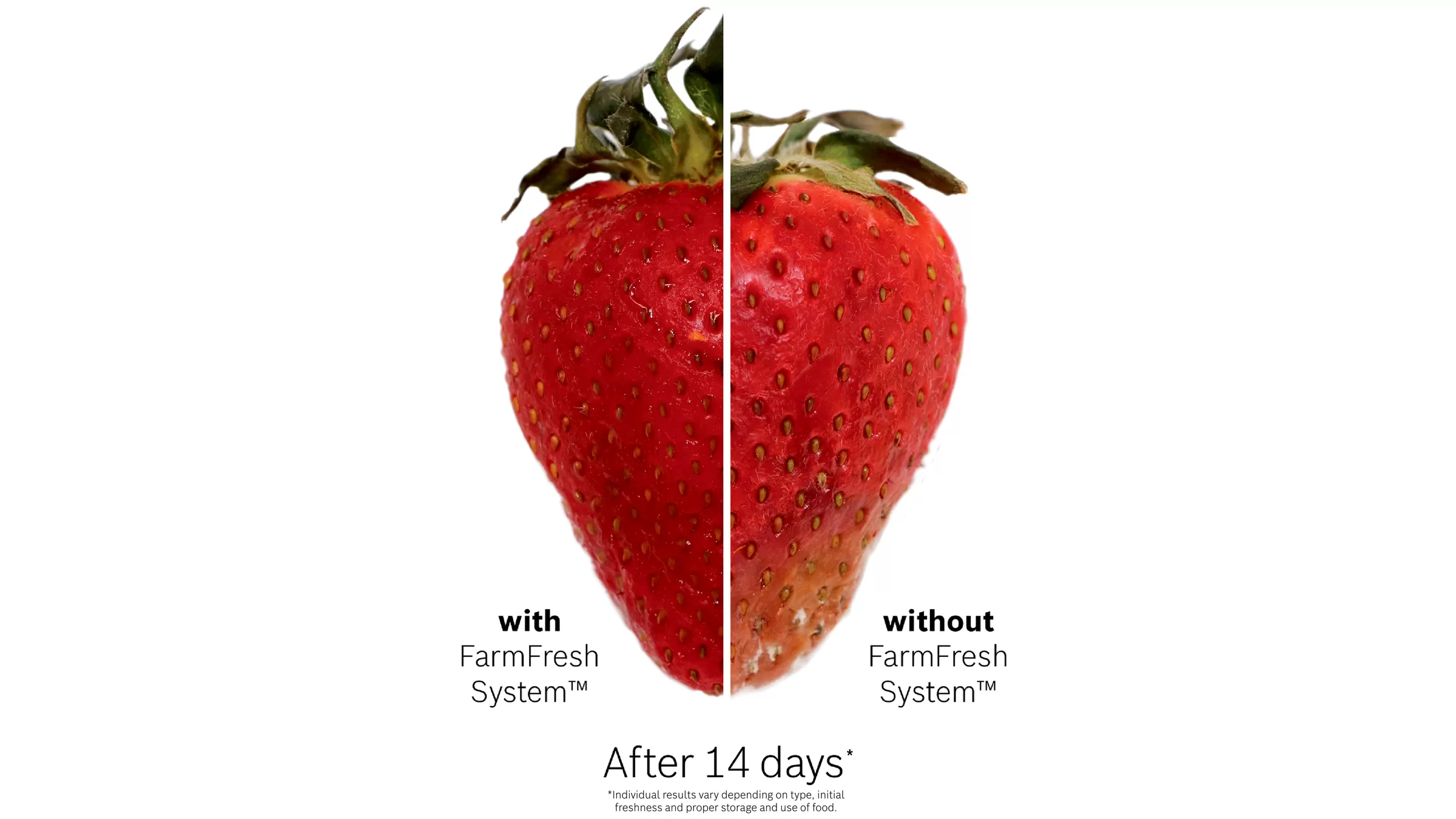 The FarmFresh System™, on the new Bosch counter depth refrigerators, combines four innovative technologies to keep your food fresh up to 3x longer, for less food wasted.* From produce to meats and cheeses, preprogrammed settings within the VitaFreshPro™ drawer automatically balance temperature and humidity levels based on the food setting. Did you know that fruits and vegetables emit a naturally occurring gas called ethylene, that causes surrounding produce to ripen faster than normal? FreshProtect™ filter in the new Bosch counter depth refrigerators, absorbs naturally occurring ethylene to slow ripening, so produce stays fresher, longer.
The new counter depth refrigerators from Bosch are also equipped with dual compressors and dual evaporators. Why is two better than one? Dual compressors and evaporators offer efficient and precise cooling and humidity control, creating two independent cooling zones. This means that in addition to precise temperature and humidity control, you also significantly limit odor transfer between the refrigerator and freezer, for the optimal freshness environment.
The end result? An advanced refrigerator that takes the guesswork out of food storage, keeping your food fresh up to three times longer.*
Tip #3 – Master Your Day with a Connected Refrigerator
Smart homes help people stay in the know when it matters; and connected refrigerators can even help reduce food waste. Home Connect™ allows the new Bosch counter depth refrigerators to be remotely monitored and controlled with a single app, for a new level of ease and convenience. How often has a family member forgotten to close the fridge door, and you return home to a fridge full of spoiled food? Now with Home Connect™, receive a notification on your phone should you accidentally leave your refrigerator door open for an extended time. You can also remotely control the temperature, adjust lighting, and run diagnostics, for the ultimate convenience.
Tip #4 – Get Friendly with Your Freezer
Another way to prevent food waste is to freeze your items for future use when they are at their peak. Fresh meat should be consumed as soon as possible. However, if you freeze it, try and make sure it is as flat as possible in the freezer and split into quarter sections, which helps to freeze the meat faster, thaw better, and be portioned out more efficiently. Fruit and vegetables can be frozen when they're fresh. Blanched vegetables freeze particularly well. Tip: freeze in small portions so it's easier to manage. Don't forget to date your fruit and vegetables on freezer bags or containers.
An organized freezer helps keeps food visible, so it doesn't get buried and forgotten. Bosch's new counter depth refrigerators offer an ingenious three-tier layered freezer drawer system, creating extra storage for frozen items, from pizza boxes to frozen waffles. The new organized shelving system, paired with LED lighting, clearly displays all freezer items, helping to reduce food waste.
Tip #5 – For the Love of Leftovers

Your refrigerator can also play a big role in transforming tonight's dinner into tomorrow's lunch.
One easy way to prevent waste and to upgrade your leftovers is to cook one "use-it-up meal" a week. From repurposing a recipe for roasted chicken into the star of a seasonally-inspired salad, to using leftover noodles to make a zesty pasta side dish, this is the perfect opportunity to explore your creativity in the kitchen and transform leftovers that would otherwise be tossed into something new and delicious.
Looking to make something sweet with your leftover fruit? Try these alternative ice cream recipes.
Vegetables peels are often one of the first items to get tossed, but they are also the perfect start to a vegetable stock. You can use the stock as a base for the next hearty soup or freeze the liquid in muffin tins or ice cube trays for creating a meal in the future.
When storing your leftovers in the refrigerator, be sure to use clear plastic or glass containers so you can easily see your food contents. Washing and drying your clear tupperware containers can be a chore, so easily toss them in the dishwasher. Some dishwashers use heating elements that can damage plastic containers and lids, but Bosch's new dishwashers with patented CrystalDry™ technology transforms moisture into heat to get dishes, including plastics, 60% drier.**
With a few simple tips, it is easy to transform your refrigerator into a sanctuary for each of your food items, reducing food waste and setting the stage for some of your most memorable meals with consistently fresh ingredients every time. To learn more about the new Bosch French door bottom mount refrigerators, and how they can help keep your food fresh up to 3x longer*, click here.
*As compared to a Bosch refrigerator without the FarmFresh System. Results may vary among different foods.
**Based on aggregate average drying performance of Bosch Dishwashers with CrystalDry on combined household load including plastics, glass, steel, and porcelain as compared to Bosch Dishwashers with PureDry. Drying performance may vary by dish type.