With the Stanley Cup Finals happening from June 8 to 18, every National Hockey League fan on the planet probably has a ton of questions running through their mind. Like, which two teams will battle it out in the finals? Who will emerge as the champion? And what on Earth should I serve at my watch party?
While we don't know the answers to the first two questions just yet, we do have the answers to what you and your guest should be indulging in as you watch the NHL Finals:
 

BBQ rotisserie recipes.
GRILL YOUR WAY TO GLORY WITH THESE TOP 7 RECIPES:
Asian Style Rotisserie Ribs

Rotisserie Roasted Lamb Gyros

Easiest Rotisserie Chicken Recipe Ever

Orange and Bay Rotisserie Crackling Pork with Herby Potato Wedges

Rotisserie Buffalo Chicken Wings

Rotisserie Roasted Chicken with Rotisserie Basket Potatoes

BBQ Mini Potatoes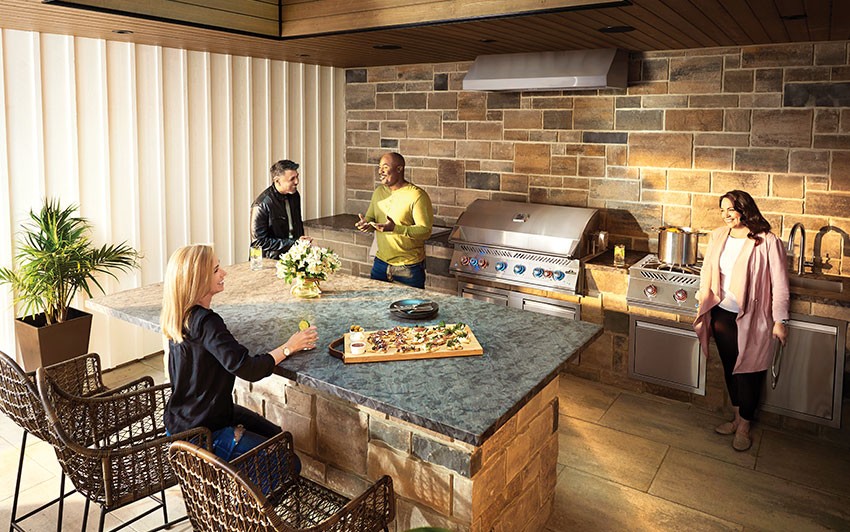 ASIAN STYLE ROTISSERIE RIBS
We saw your eyes light up the moment you looked at the photo above. We can't blame you—these Asian Style Rotisserie Ribs are as heavenly as they are photogenic.
They're sticky, slightly sweet, and a sure-fire crowd favorite. Made with sesame oil, tomato paste, hoisin sauce, soy sauce, dry garlic rib sauce, and brown sugar, it's one of the BBQ rotisserie recipes that always takes center stage.
ROTISSERIE ROASTED LAMB GYROS
With these Rotisserie Roasted Lamb Gyros, you can easily chow down on your food without missing out on any of the hockey action. It's also a great way to add some variety to your menu. After all, who doesn't love gyros?
In this recipe, the flavors of boneless lamb shoulders are elevated with coriander seed, dried thyme, sweet paprika, oregano, and garlic powder. If you're new to cooking lamb, then this is one of the easiest rotisserie recipes that you can confidently pull off without a hitch.
TUMBLE BASKET BUFFALO WINGS
You can't possibly watch the NHL finals without buffalo chicken wings. To make sure they're cooked to perfection, you're definitely going to need the Napoleon rotisserie grill basket.
Then, the dry rub you'll put together will have key ingredients such as brown sugar, cayenne pepper, smoked paprika, chili powder, oregano, ground thyme, mustard powder, etc. Coat the wings in this dry rub and then refrigerate the mix for two hours or overnight. When it's time to start cooking, it'll be smooth sailing if you have your rotisserie basket! You'll only need about 35 minutes of cook time per batch of wings.
ORANGE AND BAY ROTISSERIE CRACKLING PORK WITH HERBY POTATO WEDGES
Just when you thought that the classic BBQ and potato pairing couldn't possibly surprise you—the orange flavors in this rotisserie dish deke you out and score the winning goal! And you'll best believe us when you try this Orange and Bay Rotisserie Crackling Pork with Herby Potato Wedges recipe.
Trust us, you can pull this dish off even if you're just a beginner. What you will need to stock up on though is patience, as the cook time for this one is 150 minutes. Once you smell the perfect caramelization with hints of orange, that's when you know you should give yourself a well-deserved pat on the back.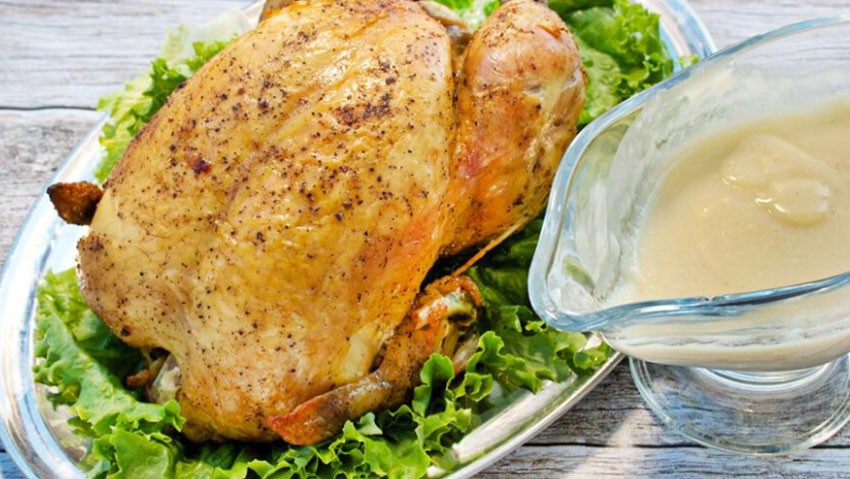 EASIEST ROTISSERIE CHICKEN RECIPE EVER
Gather around friends; we're about to share the easiest rotisserie chicken recipe ever. In just 30 minutes (yes, you read that right), you'll be able to cook up this rotisserie recipe like a total pro. All you need is a whole chicken, salt, pepper, rosemary, olive oil, dry white wine, and a Napoleon rotisserie kit to create this masterpiece. Don't be fooled, though—this recipe might be easy to make, but it will taste as if it was made by the rotisserie deities.
BBQ MINI POTATOES
These BBQ mini potatoes are pretty cute, and they're perfect as a side to any of the rotisserie recipes above! They may be tiny, but they sure do pack an incredible explosion of flavors.
Made with gemstone potatoes, chopped rosemary, thyme, olive oil, garlic, salt, pepper, and lemon juice, these babies are here to complete your menu of BBQ rotisserie recipes.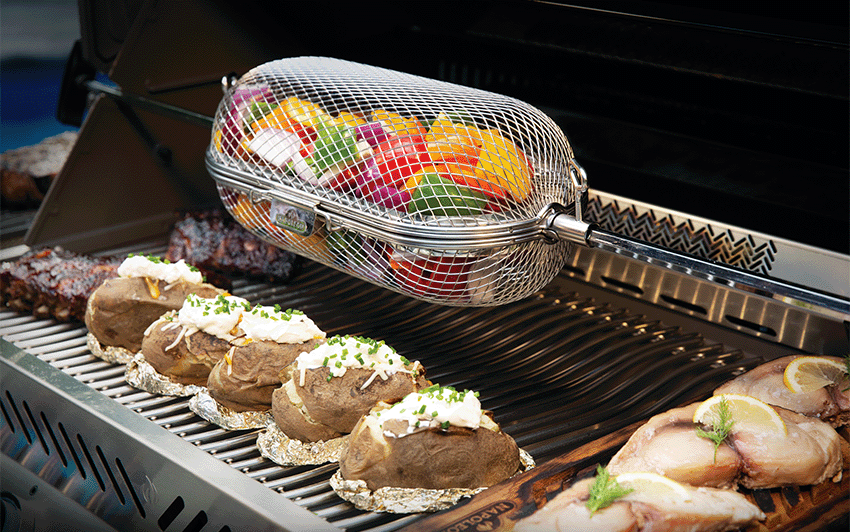 MAKE IT A BARN BURNER PARTY WITH NAPOLEON'S ROTISSERIE BASKET
We know you want your party to be a total barn burner too—and the easiest way to make that happen is by serving these BBQ rotisserie recipes that your guests simply won't be able to get enough of. And when it comes to this style of cooking, the Napoleon rotisserie basket is simply indispensable.
Find a Napoleon dealer near you so you can add this rotisserie basket to your shopping cart. And if you've decided to cook any of these rotisserie recipes, don't forget to tag us on Instagram (@napoleonproducts) with the hashtag #NapoleonEats.