From our friends at Bosch!
One of my favourite bakery treats is a warm, crumbly scone, especially when paired with a strong espresso. I like to experiment with flavour combinations when I bake them, especially when I can sneak in some healthy ingredients. My Blueberry Ginger Chia Scones are a wholesome twist on the classic scone that you can feel good about digging into with their yogurt, ginger, chia, and fresh fruit elements.
One of the best things about these scones is how simple they are to make. They can even be made ahead and frozen so you can pop them right into the oven for a fresh, filling weekday breakfast or even a quick dessert, topped with honey and crème fraîche.
Baking with my Bosch wall oven simplifies the process even further, thanks to the Fast Preheat setting that I can activate on the go through the Home Connect ™ app on my smartphone. These features mean getting these delectable scones on the table quickly, any day of the week, is a breeze. And trust me, my family can hardly wait for these goodies to hit the table!
-Curtis
Curtis Stone's Blueberry Ginger Chia Seed Scones Recipe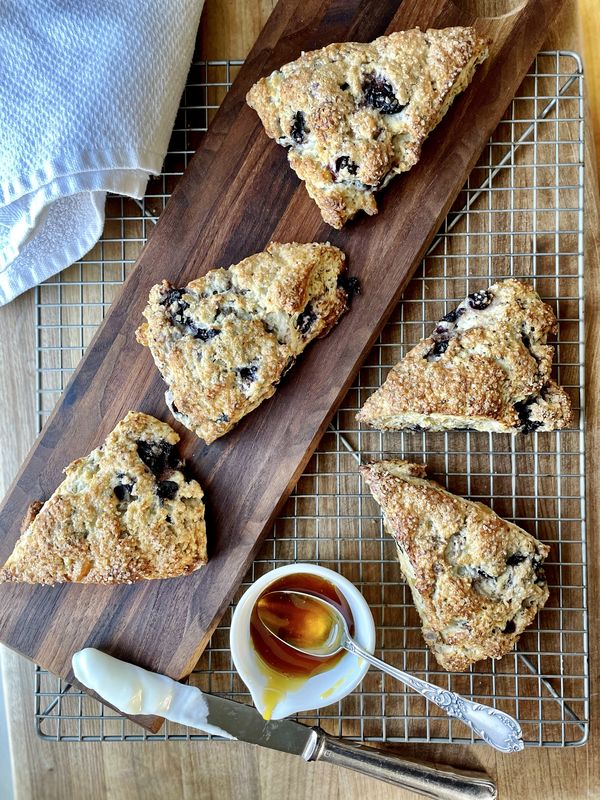 Makes 8 scones | Prep Time: 10 minutes, plus 30 minutes chilling and cooling time | Cook Time: 25 minutes
Make-Ahead: Baked scones can be made up to one day ahead. Store covered at room temperature. Unbaked scones can be frozen for up to 1 week. Do not thaw scones before baking, simply allow a few extra minutes of baking time.
Ingredients:
¾ cup plain yogurt
1 lemon, zested and juiced
2 ⅓ cups all-purpose flour
½ cup granulated sugar
1 ½ tsp baking powder
½ tsp baking soda
½ tsp kosher salt
¼ cup finely chopped crystallized ginger
3 Tbs chia seeds
8 Tbs (1 stick) chilled unsalted butter, cubed
6 oz fresh blueberries
Milk, for brushing
Demerara or raw sugar, for sprinkling
Accompaniments:
Californian artisan honey
Crème fraîche
Method:
1. In a small bowl, whisk yogurt, lemon zest and juice.
2. In a large bowl, mix flour, granulated sugar, baking powder, baking soda, salt, ginger, and chia seeds. Using fingertips, rub butter into flour mixture until butter is in pea-sized pieces. Mix in blueberries. Add yogurt mixture and stir with a fork just until a crumbly dough forms. Lightly gather dough in bowl until it just comes together.
3. Turn dough out onto lightly floured cutting board and pat dough into a 1-inch-thick round that is about 8½ inches in diameter. Refrigerate 20 minutes, or until chilled.
4. Meanwhile, place rack in center of Bosch wall oven and preheat to 375°F using Convection Bake mode. Line large sheet pan with parchment paper.
5. Cut dough into 8 wedges and transfer to prepared pan, spacing evenly apart. Brush tops of scones with milk and sprinkle with demerara sugar. Bake 20 to 25 minutes, or until golden brown on bottom and top. Cool scones on pan for 10 minutes.
6. Serve warm or at room temperature with honey and crème fraîche.