Having a restaurant quality steak doesn't mean having to drive all the way to your favorite steakhouse. Juicy steak can make your mouth water instantly, and thanks to a quick and easy recipe found in the Bosch Home Connect™ app, a sizzling, savory steak is at your fingertips. The right combination of key ingredients like salt, oil, herbs for steak, and aromatics, can take the taste to the next level. Follow the simple steps below, and this recipe will quickly become one of your go-to favorites.
Whether you're hosting friends for a party, or simply need a new dinner menu, the convenience of the Home Connect™ digital recipe book gives you access to new appetizer, entrée or drink ideas that allow you to cater to your guests and enjoy the memories that you value most.
The secret to making this recipe at home is marinating the top sirloin in a flavorful garlic and herb marinade. Each ingredient plays an essential role to cooking the perfect steak. Allowing your steaks to marinate in the refrigerator for at least 2 hours will make every bite of steak tastier and tender.
For added ease, the Bosch 800 Series Wall Oven helps produce the perfectly tender steaks your guests will savor. The broil setting is a fast and easy way to brown and cook food and functions very much like grilling as it uses direct, high heat. The best part about using the broiler to prepare your steak is that it will be done in under 14 minutes and allows your steak to soak in the delicious flavors of the marinade and not dry out.
This recipe, along with other mouth-watering dinner ideas, can be found in the Home Connect™ app. Invite your close friends tonight and treat them to a juicy steak dinner reminiscent of their favorite steakhouse.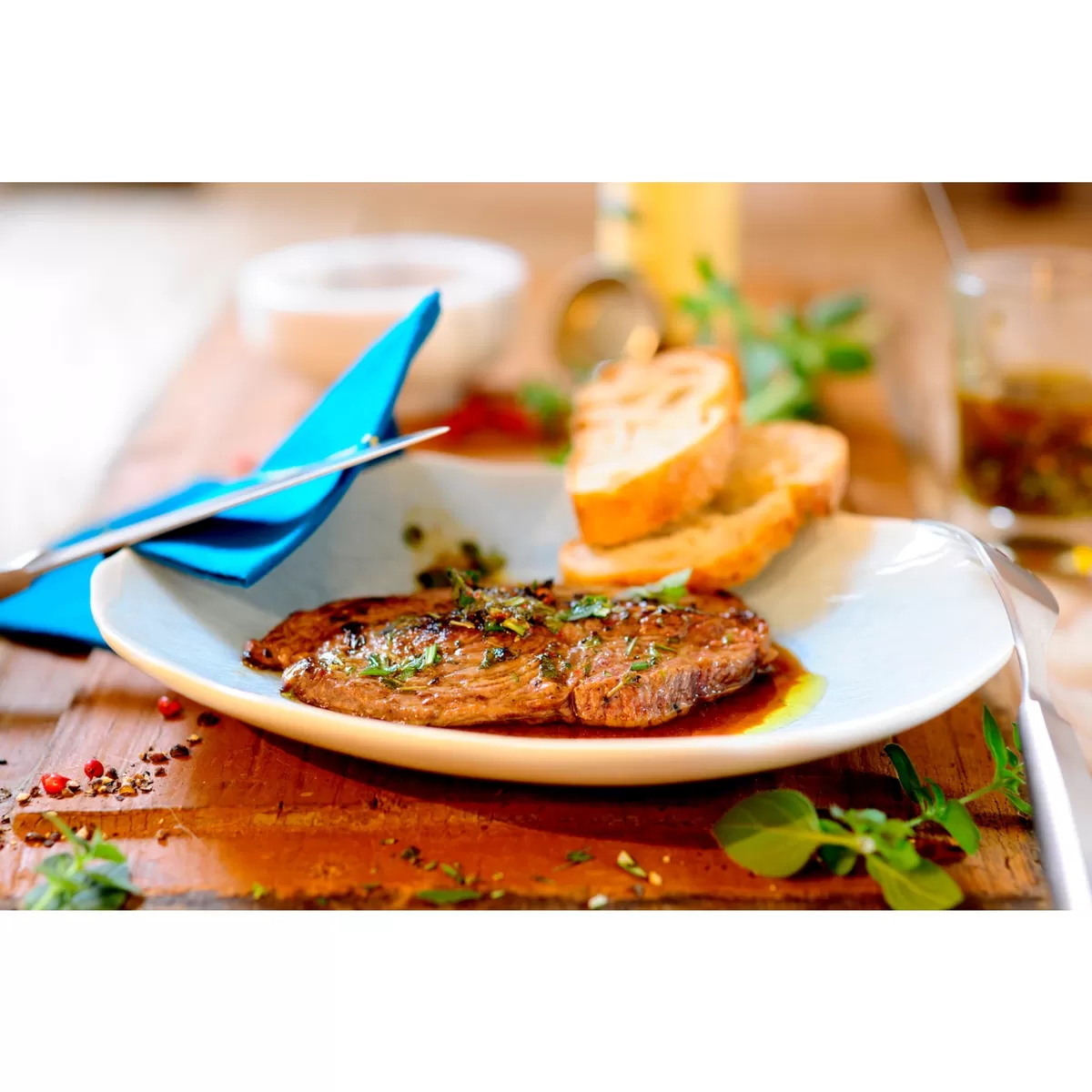 Ingredients:
Makes Two Servings
Garlic and Herb Marinade:
2/3 cup olive oil
2 teaspoons finely chopped fresh basil
2 teaspoons finely chopped fresh oregano
2 teaspoons finely chopped fresh thyme
2 teaspoons minced garlic
1 teaspoon finely chopped rosemary
1 teaspoon kosher salt
½ teaspoon fresh ground black pepper
¼ teaspoon ground cayenne pepper
Steak:
1 beef top sirloin (about 1 pound), 1-inch thick
Method:
1. In a small bowl add marinade ingredients; stir to combine
2. Place steak in food safe plastic bag or shallow dish; pour Marinade over steak turning to coat both sides.
3. Place steak in refrigerator and marinate at least 2 hours.
4. Remove steak from marinade and place on Broiler Pan. Place Broiler Pan on center of rack; broil steaks on setting above 6 to 7 minutes turning steak over halfway through cooking.
5. Remove steak and place on a cutting board; slice diagonally against the grain and serve.
Pro tip: When your steak is done. DO NOT cut into it right away. It's scorching hot, and all the fat and juices need time to soak into the steak further. Let them settle and redistribute through the meat by resting, or not cutting into the steak, for at least 5 to 10 minutes.
See the Original post here!