See the original post here: https://www.napoleon.com/en/ca/barbecues/blog/how-cook-budget
With the cost of food today, planning and cooking on a budget just seems like a wise choice. But how do you cook on a budget? By planning, organizing, and using great food hacks, you can easily cut down on your grocery costs while still eating like a king or a queen. These suggestions are great for meat-eaters but can also be vegetarian and vegan friendly as well. The tips and tricks in this guide may not be for everyone, look at all of them and adapt the ones that work for you, into your own lifestyle.
Try this Budget BBQ Chicken Skewer Recipe that features loads of leftovers from many of the Freestyle recipes.
MEAL PLANNING
The top tip when it comes to saving money is meal planning. For the busier people, it can seem like an insurmountable task. I myself have found it to be a scary thing to tackle if looking at the project as a whole. (It doesn't help that I literally do nothing but think about, write about, research about, watch videos about, and cook food for a living.)
Instead, break this task up into smaller chunks. Start with a list of all the meals you love to eat and can cook with ease. Group your favorite meals by putting the ones with similar ingredients together. Inspect your pantry and see what you have loads of. Use your pantry staples to ensure you aren't purchasing extras that you already have on hand. You can then purchase enough ingredients for the week to make those selected meals with little waste.
Once you have mastered that, consider an app or download a meal planning sheet that you can print out. There are many that are a quick google search away and easy to follow.
PRO TIP:
Can you use leftovers from one meal as the base for another meal from your favorites list? THERE! You've just saved some money! What about doubling up and freezing portions? If the ingredients for your favorite stew, soup, spaghetti, curry, and/or chili are on sale, why not double up and freeze the extras for a quick grab meal later?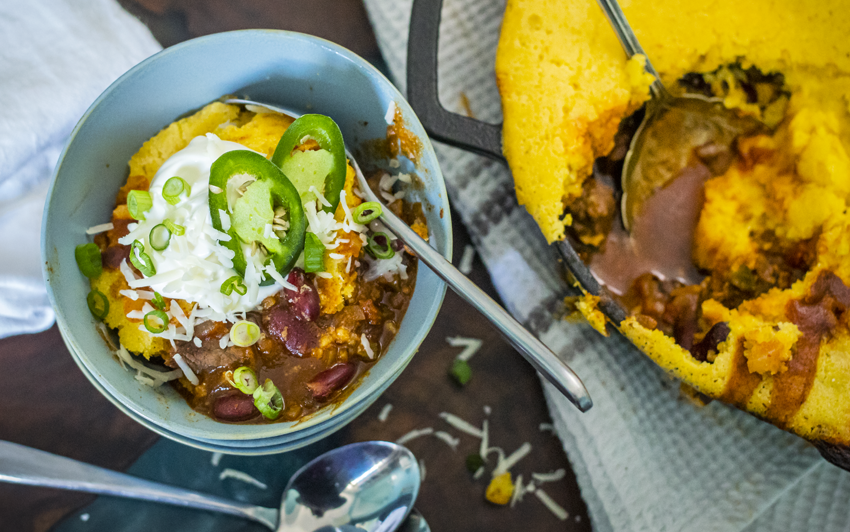 A large filet of salmon can be divided up between 4 and served with a simple butter and honey glaze for a filling and delicious dinner
SIMPLE CAN BE DELICIOUS & SPENDING JUDICIOUSLY
Simple fare can still be delicious. There is nothing wrong with meals consisting of a simple and well-seasoned main star, like salmon or chicken or tofu, served on a bed of steamed rice with some grilled vegetables. Vegetables, even frozen ones, are healthy and hearty, you can bulk up your meals with them instead of including extra protein. Potatoes, rice, and pasta are also great to pad meals where you would usually just add extra meat, although these are a less healthy alternative.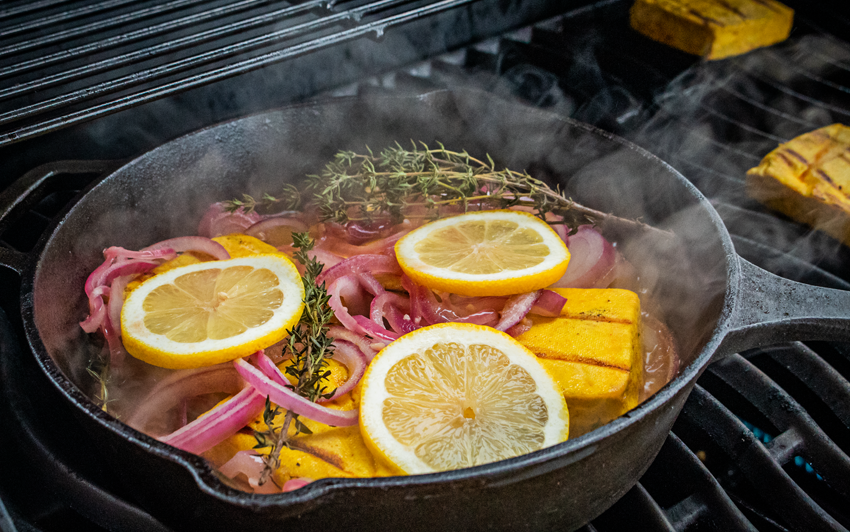 This simple and easy recipe for Vegan Citrus Tofu is served on a bed of rice for a filling and hearty meal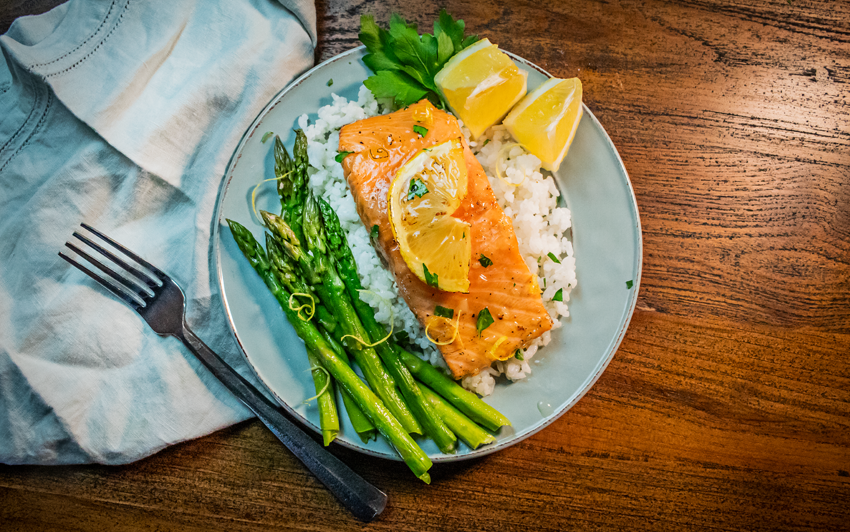 A large filet of salmon can be divided up between 4 and served with a simple butter and honey glaze for a filling and delicious dinner
WHEN TO PAY FOR PREMIUM
Sometimes you can have your cake and eat it too. There are times when you can and should spend the money on premium ingredients. Spending judiciously on superior foods can pay off. It all depends on the circumstance and application. You don't need the best of the best when flavors are going to be hidden. Grated cheese on a fast weeknight pasta doesn't need premium. An excellent cheese featured on a charcuterie board will certainly be appreciated more. The same can be said for cuts of meat. Instead of buying an individual steak for everyone, see if there is a larger cut that can be shared. A tomahawk steak, well grilled and served with appropriate sides, like loads of veggies, will serve up to four comfortably.
EAT WITH THE SEASON, SHOP SALES
Seasonal eating is a smart way to save and eat in a budget-wise fashion. Foods that are summer crops are going to be much more expensive in the winter. Check online, every few weeks to keep on top of the seasonal offerings to ensure you are getting the best deals. If you have the space to spare, buy extras when you find a sale and freeze it for later.
Veggies that are strong and hearty like broccoli, cauliflower, squash, peas, and carrots will do well if blanched and sealed well in airtight packaging. Onions, peppers, and anything leafy tend to liquefy upon thawing. Fresh herbs can be washed and frozen in small quantities with oil.
Fruit doesn't do very well. Berries of any kind need to be washed and stored in an airtight container, however, when thawed will become mushy. Citrus can be frozen in slices, or peeled and segmented, it is best used in baking and cooking afterward. Apples are best frozen after being cooked and will be well suited to pies and baking.
PRO TIP:
Use food scraps from prepping veg for meals or for freezing to add extra flavor to stocks and soups. Keep onion, carrot, celery, and garlic scraps to add to your stock.
Whether you use wholesale stores like Costco or shop the sales like a pro, when you can, purchase whole larger cuts. Full loins (beef or pork), entire beef tenderloins, and other larger cuts that are generally broken down into smaller chops, steaks, or roasts can be butchered yourself. Get more bang for your buck while customizing the size of the end product. Follow the guide below for great tips for freezing.
HOW TO FREEZE FRUIT AND VEGETABLES
Remove store packaging/stickers
Portion and group for grab 'n' go meal prep
Blanch in boiling water, then drain and cool
Into freezer bags and remove air when sealing
Label and date
HOW TO FREEZE MEAT, CHEESE, ETC.
Remove store packaging
Portion and group for grab 'n' go meal prep
Tightly wrap in cling wrap
Into freezer bags and remove air when sealing – the double wrapping prevents freezer burn
Label and date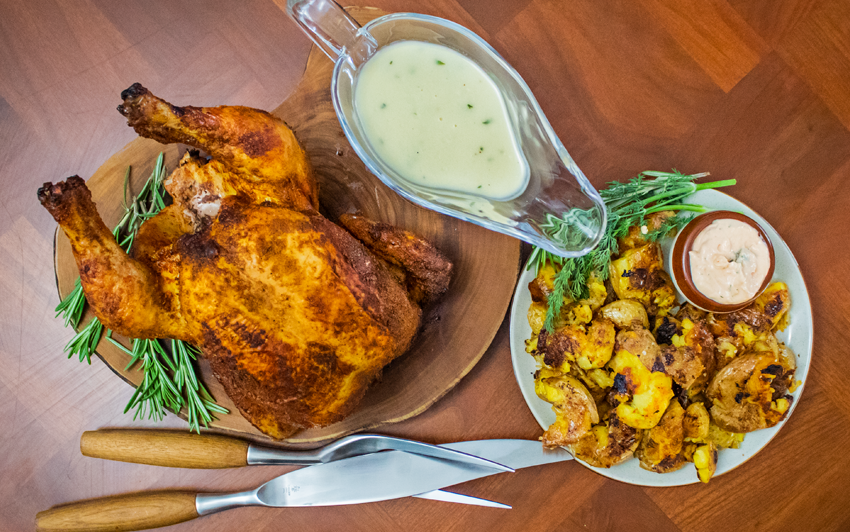 PRO TIP:
A whole roasted chicken can be stretched, eat it for dinner, then use the leftover meat for anything from tacos to a casserole or even chicken salad, then use the skin and bones for a stock to make soup or even risotto.
Try this delicious Apple Cider Beer Can Chicken Recipe on your barbecue for a whole chicken meal that will provide loads of food that can be used throughout the week.
SAVE WITH FOOD HACKS
Little hacks can also save you both time and money. Try some of these when you need to save on both.
Remember to use ingredients in order of perishability. Things that wilt or perish quickest should be used first, while other, heartier items can be saved to use later.

Stretch your ground meat with lentils. If you have lots of hungry mouths and only a little ground meat, add canned lentils to them to stretch the dish further.

If you have the patience and the space, growing your own herbs and veggies can be as rewarding as it is easy on your pocketbook.
Not all of these suggestions will work for everyone. It may be you only have a small fridge, or that you share it with others, so space is a premium. Or the work that goes into intricate meal planning doesn't quite work for you. That is alright. Apply what techniques listed above DO work for you and you will start saving time and money when it comes to cooking on a budget. Share your favorite burger recipes, success stories, and photos with us on our social pages like Instagram and Facebook. Don't forget to use the hashtags #NapoleonEats and #FreestyleGrilling!