From our friends at Electrolux!
Celebrate the colder weather by making a batch of these irresistible Fall treats.
One of the silver linings of fall is that we get to add pumpkin to everything in sight. Our lattes, our desserts, and now, even our candy. Celebrate the colder weather by making a batch of these Sea Salt Pumpkin Caramels with Pine Nuts. And if there's ever a time to conquer homemade caramel, it's now (we've got you covered with the basics).
The earthiness of the pumpkin counteracts the caramel's sweetness to make a well-balanced candy worth sharing. Wrap them up and send them home with dinner guests, or upgrade your Halloween treats. Or do none of these things — we won't judge you if you keep them all to yourself. Either way — here's how to get it done: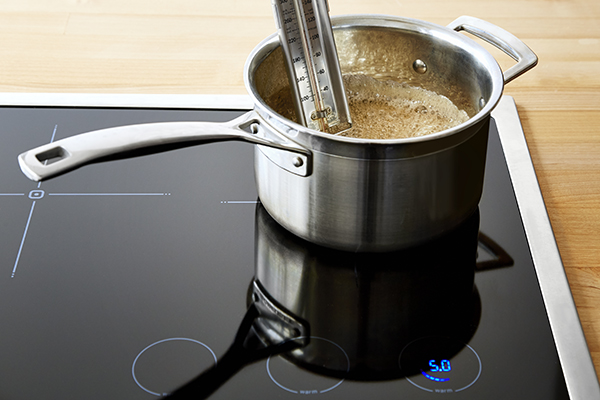 Electrolux Tip:
With an Electrolux induction range, each section of the cooktop will adjust its heat to the size of the pan, so you can manage your cooktop like a pro.
Ingredients
2/3 cup pine nuts
1 1/2 cups heavy cream
2/3 cup pumpkin purée
1 teaspoon pumpkin pie spice
2 cups granulated sugar
1/2 cup light corn syrup
1/3 cup pure maple syrup
1/4 cup water
4 tablespoons unsalted butter, cut in 1/2-inch chunks
1 teaspoon lemon juice
3/4 teaspoon fleur de sel
Instructions
Dry toast the pine nuts in a skillet over medium heat, tossing occasionally, until golden, about 5 minutes.
Line the bottom and sides of an 8-inch square glass pan with parchment. Butter the parchment on the sides of the pan. Evenly scatter the toasted pine nuts on the bottom of the pan, on top of the parchment. In a heavy saucepan, combine heavy cream, pumpkin purée, and spices. Get this mixture quite warm, but not boiling. Set aside.
In a second heavy-bottomed pan with sides at least 4 inches high, combine the sugar, both syrups, and the water. Stir until the sugars are melted, then let it boil without stirring until it reaches 244° F (the soft ball point on a candy thermometer). Then, very carefully, add the cream and pumpkin mixture, and slowly bring this mixture to 240° F, stirring occasionally. This can take a while — about 30 minutes — but don't leave the kitchen; watch it carefully and stir it more frequently once it hits 230° F to keep it from burning at the bottom of the pan.
As soon as the mixture reaches the 240° F mark, pull it off the heat and vigorously stir in the butter and lemon juice so that the butter is fully incorporated. Pour the mixture into the prepared pan. Let cool 30 minutes, then sprinkle the salt over the top. Let the caramels fully set (at least 2 hours) before using a hot knife to cut them into 1-inch squares and wrapping them individually in waxed paper.