From our friends at Napoleon! 
If you're thinking of purchasing a fireplace, configuring its placement is top of mind. Like most people, you're probably imagining it in your living room; it's a classic location and makes perfect sense, especially if you want your home to be warm and inviting!
But the living room isn't the only place where you can put a fireplace. Nowadays, there's a fireplace for every unconventional spot you can think of.
Napoleon offers a wide array of efficient and safe fireplaces which you can install in various areas of the home. Let these options inspire you to experiment and put fireplaces in spaces you've never considered before!
BACK PATIO OR OUTDOOR LIVING SPACE
Imagine having an outdoor fireplace like the Napoleon Riverside Series, complete with its own chimney and mantel, right in your backyard. Aside from the aesthetic boost, enjoy added warmth for your outdoor living space. An outdoor fireplace serves as a cozy focal point for your outdoor seating area. This is one of the best unique fireplace ideas for those who want to relax outdoors or like to host guests.
Place your outdoor fireplace in the center of outdoor couches or hammocks, or adjacent to your outdoor kitchen. Outdoor fireplaces can add elegance when placed within a visual range from the backyard pool or hot tub!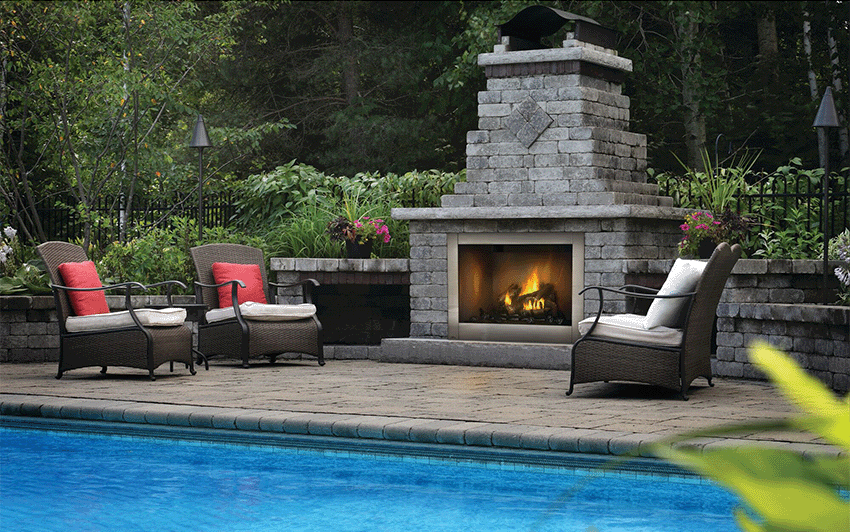 THE CORNER OF A ROOM
Do you think your space is too small for a fireplace? Fortunately, there are fireplaces, such as the Napoleon Allure Vertical series, built specifically for smaller spaces.
It's an electric fireplace that features up to 5,000 BTU and five different flame speed settings. You can even install it partially recessed for a sleeker appearance. But the best part is, it can be hung on the wall so it fits in tight or narrow spots in the home, like corners or hallways.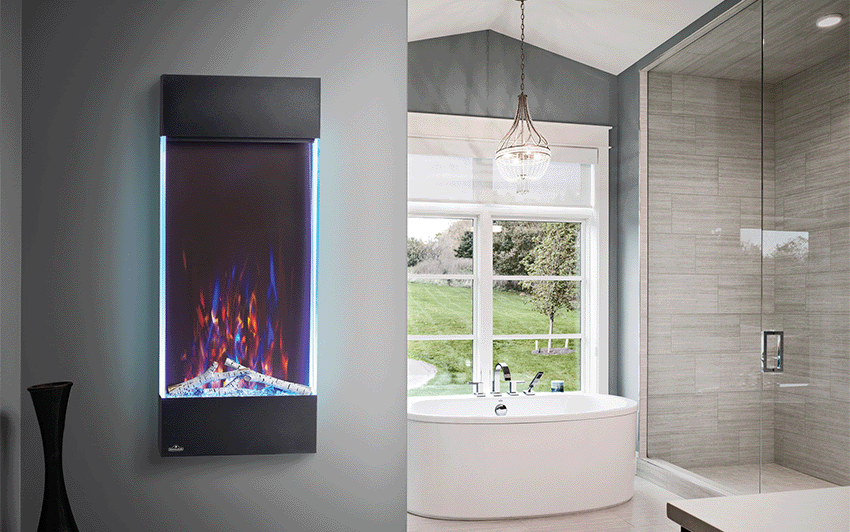 KITCHEN
Next on our list of unique fireplace ideas when determining placement is in the kitchen—especially ones that are also used as dining areas.
Choose a wood-burning stove to add a rustic or traditional touch, or for more modern designs, a gas fireplace like Napoleon's Entice series is the perfect option.
Like the Allure Vertical Series, Entice is also a wall-hanging fireplace that can fit kitchens of all sizes as it comes in as small as 36 inches to as big as 72 inches! It has a stylish appearance that can elevate the ambiance of your dining space.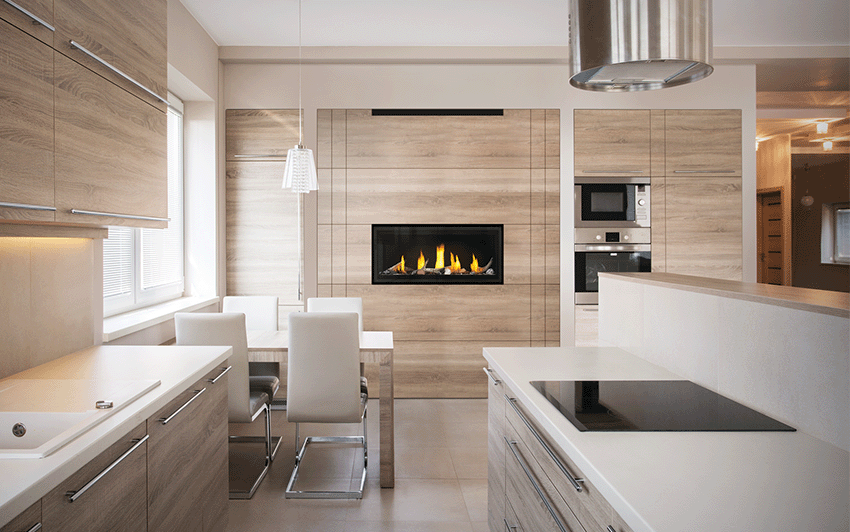 HOME OFFICE
Fireplaces can easily boost the look of your home office. Aside from providing warmth on cold days, it can also transform your office into a comfortable sanctuary you can use for deep thinking.
Retreat into your home office for some alone time. If you're tired after a long meeting or stumped for ideas on what to do next for your business, gaze into the fire and experience its relaxing benefits.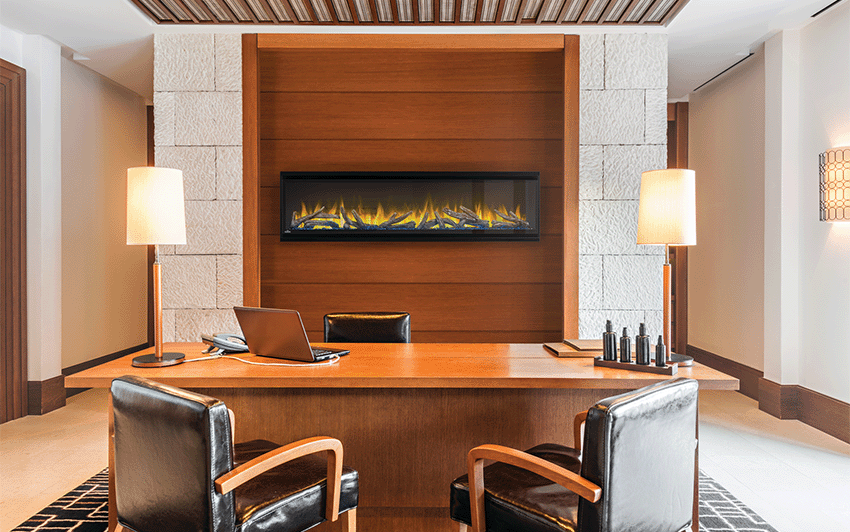 MID-WALL FIREPLACES
Gas and electric fireplaces don't have to be installed below eye level. For an instant wow factor in any space in your house, install a fireplace in a raised position, off the floor. This is one of the most versatile and unique fireplace ideas that can be done for any room in the house.
Fireplaces that are best for mid-wall installation are either vertical fireplaces, like the ones in the Park Avenue Series, or horizontal linear fireplaces, like the ones in the Luxuria Series.
ADD WARMTH AND LIGHT TO YOUR UNIQUE SPACE
This wraps up our guide on unique fireplace ideas that will boost your home's unconventional areas of the home with ambiance and style.
Napoleon is an industry leader in providing safe, efficient, and stylish fireplaces for virtually any indoor or outdoor space. Check out our fireplace collection today or find a Napoleon dealer near you!