From our friends at Napoleon! Who wouldn't want their home to be cozier at this time of year?
The nights are getting cooler and the trees are ablaze with beautiful colors. It's time to get your cozy on and we're here to make it easy. Here are 10 easy ways for you to make your home cozier this autumn.
CREATING COZINESS
Coziness isn't just comfy clothes and blankets, coziness is a wholesome expression of a relaxed atmosphere, a place where the focus is memorable moments and quality of life. It is enjoying the good and meaningful things life has to offer. These tips will help you bring the inherent coziness of your own home out so that those you make memories with can feel even more welcome.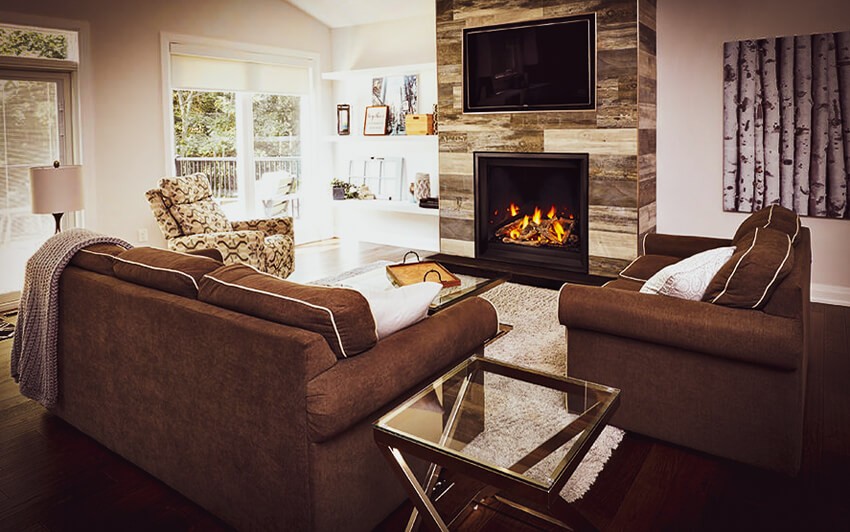 LIGHTING
1. FIREPLACES
Intrinsic to the whole making memorable moments thing, a paragon, if not the central tenant of creating a cozy space, a fireplace is possibly the number one thing you need to have in a cozy space. The fireplace doesn't have to be in the living room for a home to be cozy. It sure does help but imagine having a fireplace in the kitchen and dining room, the bedroom, your bathroom! Instantly that space seems warmer, more comfortable, don't you think?
2. CANDLES
Warm flickering light is a source of comfort. Paired with firelight, it's the perfect way to create a cozy space. It is inexpensive and easy to accomplish. Just remember to practice safety first, keeping open flames away from flammable items, décor, and textiles.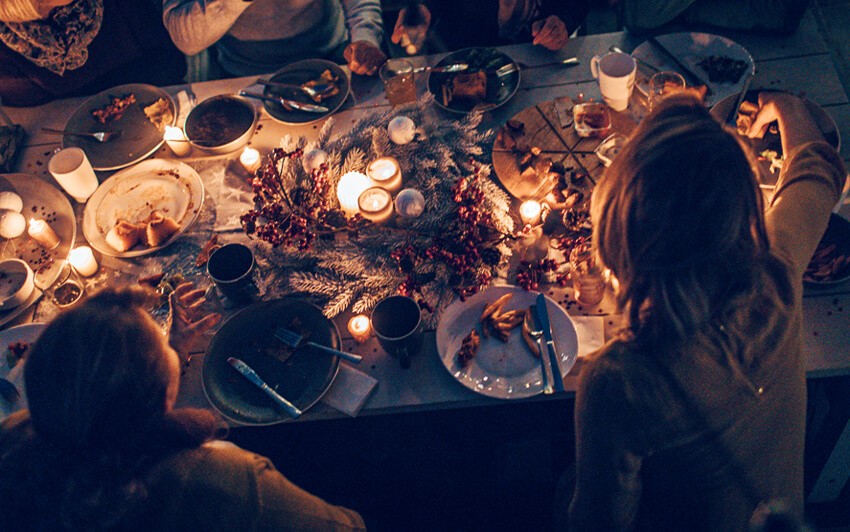 3. DIMMER SWITCH
If you haven't noticed yet, lighting is a very easy way to create a cozier space. Adding a dimmer switch to your overhead lights is a great way to ensure a bright space can be turned into something more cozy and intimate. This feature is particularly useful in dining rooms and living areas.
TEXTILES
4. PILLOWS
Not only is swapping out your throw pillows a great and inexpensive way to quickly change the décor in a space, but it can add to the cozy factor depending on the textures used. The least expensive way to do this would be to have an overstuffed base pillow and buy different covers in varying colors and textures. Faux fur, flannel, and knit fabrics in warm and jewel tones are ideal.
5. BLANKETS
Warm and sumptuous blankets with similar coloring to the throw pillows will add another layer of comfort to your new cozy home. Using knits, flannels, and plush fleeces to create an inviting atmosphere is another simple addition. Draped over chairs and couches, or in baskets just waiting for someone to grab one to curl up in, blankets are an easy way to add to the coziness of a space.
6. RUGS
Whether or not you have carpet in your house, thick throw rugs around will add another layer of cozy comfort, especially when you are barefoot.



7. DRAPES
Swapping out your drapes for heavier ones in velvets or thicker fabrics in the autumn season has more than one benefit when creating a cozy space. Not only does the more sumptuous fabric add another layer to your cozy look, but it can also change your room's décor and style completely without breaking the bank. These thicker fabrics have the added benefit of helping to trap the heat inside of your house when it gets colder too, blocking the cool air around the windows from entering the space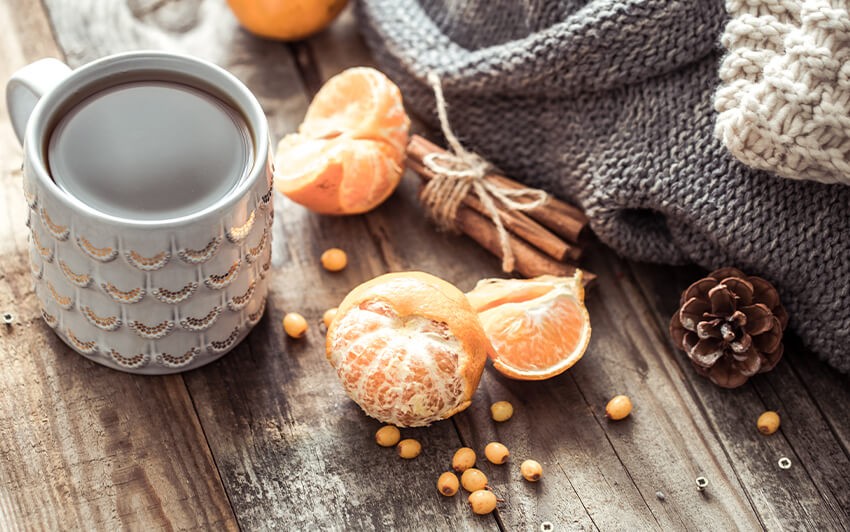 LITTLE EXTRAS
8. SCENT
The smell of fresh baking, mulled wine and cider, and wood smoke evokes the feeling of comfort even when you aren't in a comfy space. Naturally one doesn't have time to throw a loaf of bread or a fresh batch of gingerbread cookies together every day, but you can create a sense of comfort with scent by using scented candles or oil diffusers. Fragrances like apple, clove, cinnamon, nutmeg, vanilla, and orange are great on their own or in combination. What scents make you feel cozy?
9. DÉCOR
In the fall, the colors of the trees can be incredible. Why not integrate the outdoors into your autumn décor? Combine the natural and bright hues of fallen leaves, the rich chocolate browns of pinecones, deep emeralds of pine boughs, and the unique golden hues of pumpkins to decorate. Layer these on the mantle, create focal points in your entry, and stunning centerpieces. Natural-looking décor can also include wood, branches, acorns, stones, and burlap. All those hard lines will also underscore the soft things that you have brought into your home to create a cozy atmosphere.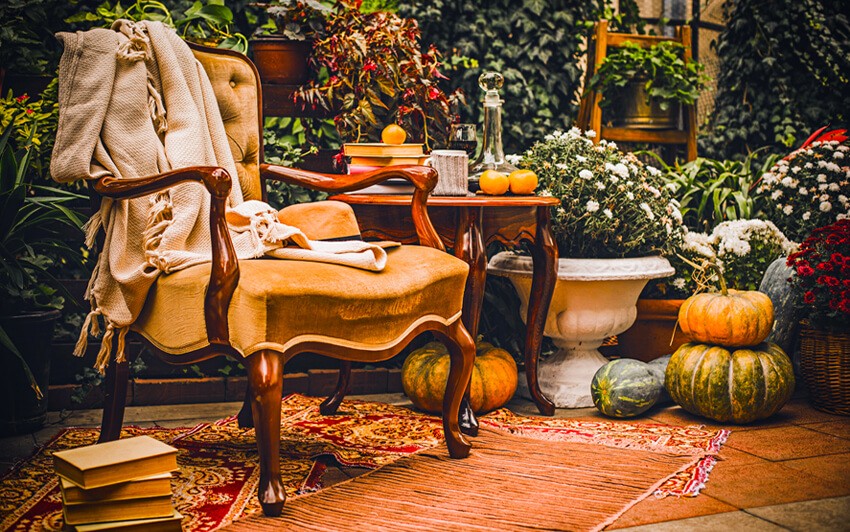 10. HOT BEVERAGES
Can you imagine being curled up in a reading nook with comfy pillows and a blanket? You're reading a delightful book when you look up to see the brilliant trees outside. Naturally, either in your hand or within reach is a hot drink. Cocoa, hot cider, or even mulled wine. Hot beverages are a must in a cozy home. But leaving your nook sounds like a lot of work. A rolling bar cart can increase the home's coziness greatly. Use it to make a hot beverage bar, a kettle, coffee maker, and drinks like tea, cider, cocoa and the like can be brought wherever the coziness is needed most.
GET READY FOR COMFORT
Remember that these aren't hard and fast rules. Keep things as simple as the joys that life holds. This article is more of a recipe for creating an environment for self-care that is perfect for creating memorable moments in the home. Now that you know at least 10 easy ways to increase your home's comfort and coziness this fall; will you hurry to do so? Share your own tips (and photos) on our social pages like Facebook and Instagram with the hashtags #CozyFall and #NapoleonFireplaces.