Step 1 – Homemade Pizza Dough
Pizza dough is fun to make at home, especially with kids, who love to check on the progress of the magically rising dough. The dough is easily made and kneaded in a food processor, but I also give instructions for a homemade version.
Serves: 4
Prep Time: 55 minutes
Cook Time: 0 minutes
Make-Ahead: The pizza dough can be made up to 1 day ahead. If making the dough ahead, refrigerate the dough to allow it to double in volume slowly, rather than rise quickly at room temperature.
Ingredients
1 1/4 cups lukewarm water (110° to 115°F)
2 teaspoons honey
1 packet (2 1/4 teaspoons) active dry yeast
3 cups unbleached all purpose flour, plus more for dusting
1 teaspoon fine sea salt
1 tablespoon olive oil
Method
1. In a small bowl or a 2-cup measuring cup whisk the warm water, honey, and yeast to blend. Set aside for about 5 minutes, or until foamy. Stir to dissolve the yeast.
2. In a food processor, pulse the flour and salt to combine. With the machine running, pour in the yeast mixture and olive oil and process until the dough forms a ball. Transfer the dough to a work surface and knead for about 3 minutes, or until it is smooth and elastic. Do not add too much flour. The dough will be tacky but should release cleanly from your hands.
3. Divide the dough in half and gently form each half into a ball. Place on a floured rimmed baking sheet and dust the tops with flour. Cover with plastic wrap. Let stand in a warm, draft-free place for about 45 minutes, or until the dough doubles in volume.
Kitchen Note: This recipe makes two 13-ounce balls of dough. To make the dough without a food processor, whisk the warm water, honey, and yeast together in a large bowl to blend. Let stand for about 5 minutes, or until foamy. Stir to dissolve the yeast. Stir in 1 cup of the flour and the salt. Gradually stir in as much of the remaining flour as needed to make a stiff dough that can no longer be stirred. Turn the dough out onto a well-floured work surface. Knead, adding flour as necessary, until the dough is smooth and elastic but still tacky, about 8 minutes. Proceed as directed above.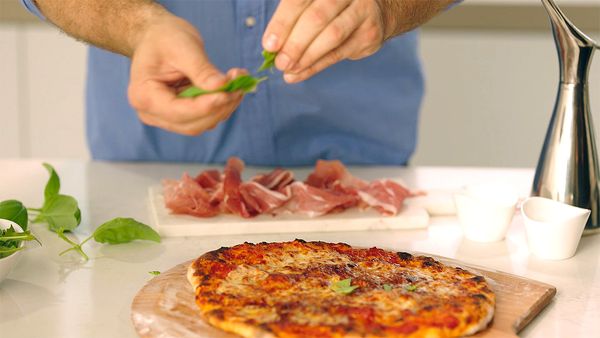 Step 2 – Marinara Sauce
Makes: 6 cups
Make-Ahead: Can be made 2 days ahead; cover and refrigerate.
Ingredients
1/4 cup extra-virgin olive oil
10 cloves garlic, chopped (about 1/4 cup chopped garlic)
2 tbs tomato paste
2 tsp kosher salt
1 tsp dried oregano
1/2 tsp crushed red pepper flakes
Two 26-oz cans crushed tomatoes (preferably organic San Marzano tomatoes)
Method
1. In large saucepan over medium-low heat, heat oil. Add garlic and sauté 5 minutes, or until pale golden. Stir in tomato paste, salt, oregano, and red pepper flakes; cook 2 minutes. Add tomatoes and 3/4 cup water.
2. Bring to simmer. Simmer gently, stirring occasionally, for 15 minutes.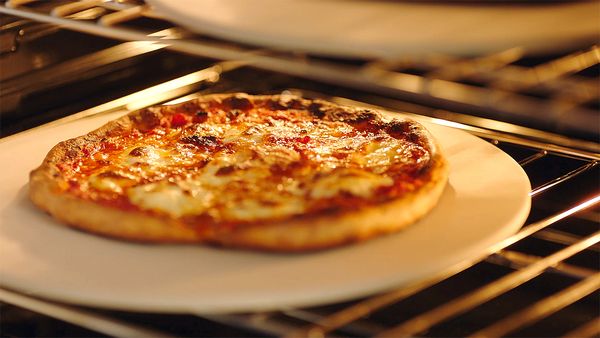 Step 3 – Margherita Pizza
Makes: 1
Make-Ahead: This pizza is best eaten hot from the oven.
PAN USED: Curtis Stone gold pizza tray
NOTE: The image has arugula and basil as the final topping; just use basil
Ingredients
One 10-oz ball Pizza Dough (see recipe) or purchased
1/2 cup Simple Marinara Sauce, or purchased
4 oz fresh mozzarella cheese, torn
1/4 cup finely grated Parmesan cheese (preferably
Parmigiano-Reggiano)
6 leaves fresh basil, torn
2 tsp extra-virgin olive oil
Flaky sea salt
Method
1. Place rack in lowest position in oven and preheat oven to 450°F.
2. Stretch dough over perforated pizza pan. Spoon marinara sauce over dough and scatter mozzarella over. Sprinkle with Parmesan.
3. Bake 15 minutes, or until crust is crisp and golden brown on bottom. Transfer pizza to cutting board. Scatter basil over. Drizzle with oil and sprinkle with sea salt. Cut into wedges and serve.