Take this classic cocktail up a notch with vanilla.
Who doesn't love cooking or baking with vanilla? We're partnering with Ashley Rodriguez of Not Without Salt to share tips, insights and recipes featuring vanilla.
The Moscow Mule — a classic cocktail that is simply a blend of Vodka and Ginger Beer — is nothing new. In fact, those classic copper mule mugs are becoming a ubiquitous staple in cocktail bars everywhere. But what about changing up the recipe this winter? For a perfect flavor counterpoint for those who find the burn of ginger beer to be a bit too much, we'd like to introduce vanilla to your mug.
Where the ginger in this drink adds a hefty spice, vanilla softens and tames the heat. And going the extra step of making the vanilla-ginger syrup from scratch, in order to make the ginger beer, is well worth the minimal effort involved. Plus, now there is no need to buy ginger beer when you can easily make it at home – and you're technically now an artisanal soda maker!
To make the base, simply slice a fresh vanilla bean in half and scrape out the seeds using a sharp paring knife. Toss the seeds and the bean into a pan with the rest of the syrup ingredients listed below to get the most vanilla flavor.
Not one for alcohol? Skip it and splash in some club soda for a bright and spicy beverage that's perfect on its own. Or maybe you've got a chill you just can't shake? Warm up your drink on the stovetop for a powerful ginger sweet tea of sorts that is sure to comfort and soothe.
Like alcohol but vodka isn't your thing? Make it a Mississippi Mule by using Gin instead of vodka, or kick it up to a Kentucky Mule with Bourbon.
Serve this drink with lime wedges and copper mugs if you have them.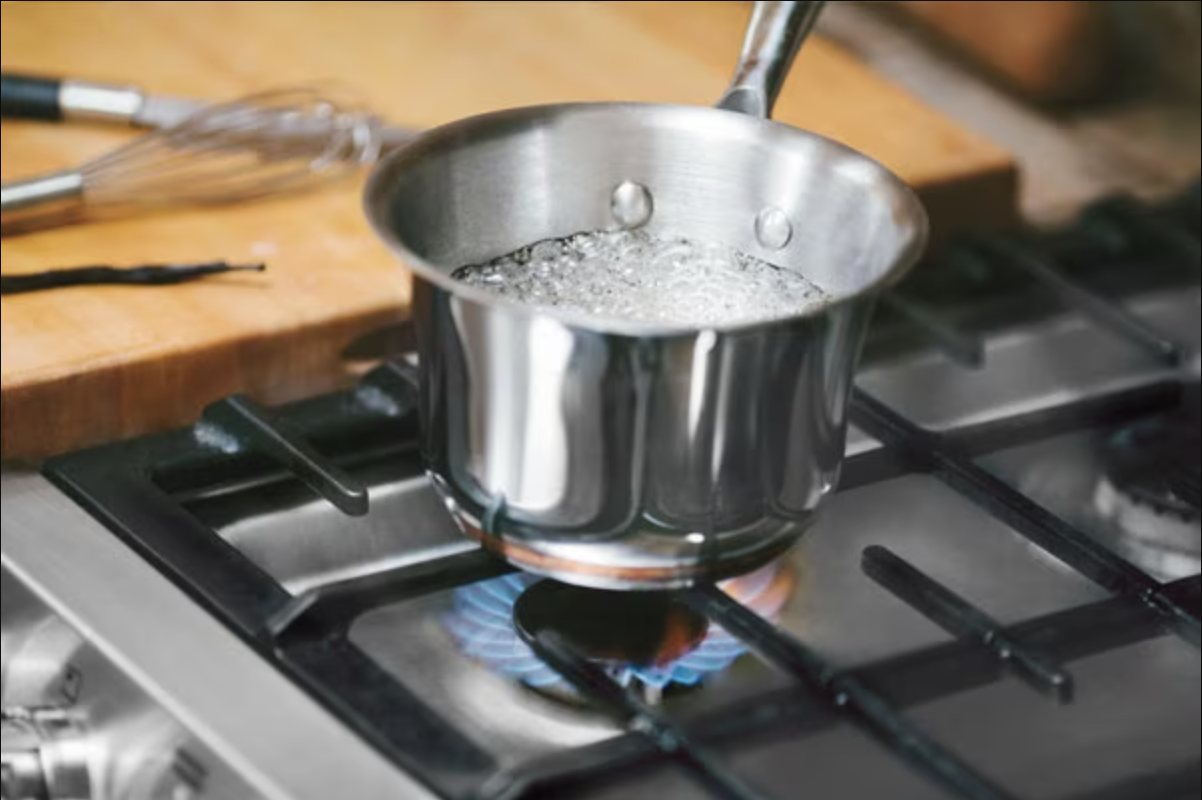 Electrolux Tip:
When you use the Electrolux Gas Range with precise temperature control, you can count on consistent heat for a perfect simmer.
Moscow Mule with Vanilla Bean
SERVINGS: 2
Ingredients
For ginger lime syrup:
1 cup granulated sugar
1 cup water
1 vanilla bean, split in half
10 ounces fresh ginger, cut into 1-inch pieces
1 cup freshly squeezed lime juice (from 8 to 10 limes)
For Moscow Mule:
1⁄2 cup ml vodka (or club soda)
1⁄4 cup freshly squeezed lime juice
3/4 cup ginger lime syrup
Instructions
For the ginger lime syrup:
In a small saucepan combine the water, sugar and vanilla bean. Bring to a simmer, and then turn off the heat and let cool to room temperature, about 30 minutes.
Process the ginger and lime juice in a food processor until finely chopped.
Add the puréed ginger mixture to the saucepan with the vanilla simple syrup and mix to combine.
Strain the ginger syrup through a fine-mesh sieve, pressing out any liquid in the ginger.
Store in a sealable container in the fridge for up to 2 weeks. You should have about 2 1⁄2 cups of the ginger concentrate.
For the Moscow Mule:
Add the vodka, lime juice, and 3⁄4 cup of the ginger syrup to a cocktail shaker filled with ice. After a few hearty shakes, pour into 2 glasses (or chilled copper mugs if you have them) filled with ice. Finish with a splash of soda water and a few drops of bitters.